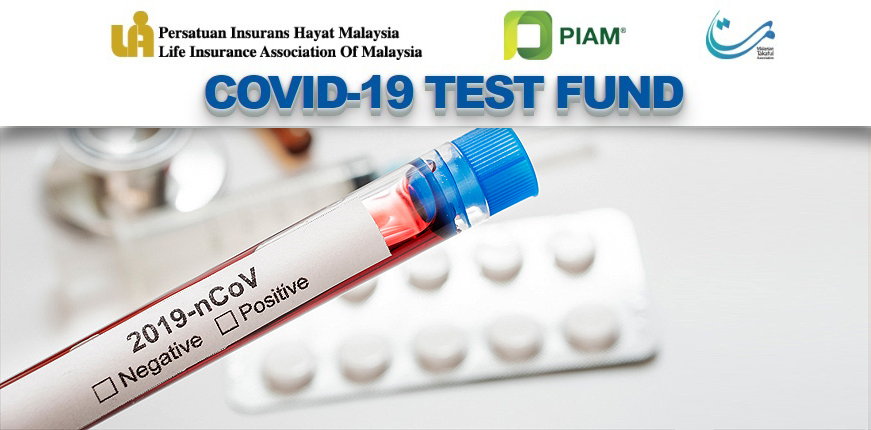 COVID-19 Test Fund – Financial Assistance Programme
The RM 8 million Covid Test Fund (CTF) has been pledged by the insurance and takaful industry in support of the Ministry of Health's (MOH) efforts to conduct more COVID-19 tests for Malaysians.
Insurance policyholders and takaful certificate holders of group/individual medical and health insurance policies and takaful certificates who have been referred by registered doctors to undergo COVID-19 tests are eligible to claim from the CTF.
Reimbursement is available for tests done from 27 March 2020 onwards and the insurance policy or takaful certificate must be in force as of 27 March 2020.
All policyholders/ certificate holders can claim from the CTF if they:-
1. Have acute respiratory infection (sudden onset of respiratory infection with at least one of: shortness of breath, cough or sore throat with or without fever; OR
2. Are deemed as person under investigation (PUI) as defined by MoH; OR
3. In contact with a positive COVID-19 case (as per MoH definition), and have been referred by a doctor (registered with the Malaysia Medical Council)
To read the press statement, click here
List of recognized laboratories by MoH for PCR (Polymerase Chain Reaction) test for COVID-19, click here
Claim Submission Documents Checklist
1. Completed Claim Form
2. MyKAD (2 sides, front and back) for Malaysian or passport for non Malaysian
3. Original receipts for the Covid-19 test
4. Doctor's declaration to go for the test or the doctor's referral letter or the Order for Supervision and Observation at Home Form click here for sample.
The CTF website www.MyCTF.my has gone live for claim submission from 11 April 2020 onwards. Policyholders may submit their Claim Forms with supporting documents for reimbursement online via the portal. MyCTF Hotline number 15500/ 1-300-22-11-88.
Email us now, if you would like to know more about this program.
Contact us now for a free consultation on insurance related matters
1. Email your queries to insurance@edindings.com or
2. Call us at 012-2861817 (M), 03-21622515 (O)